NostoNews, April 1, 2023
by Tommy Jasmin
2nd Quarter 2023 Market Comments
---
Hi all - here we are in the 2nd Quarter of 2023, with new pricing data crunching while I type. While I can't analyze data that's still crunching, I can comment on sales I've seen, and my general feel for the collectibles markets. It sure feels like the correction is settling out. I still see wild fluctuations in either direction, both on items I would and would not advise investing in. But I'm also seeing a bit more sense in the marketplace. Here are a few sales that caught my eye this past quarter, enjoy!
---
Daredevil #1 Cover Only (Marvel, 1964) CGC CVR, $432.00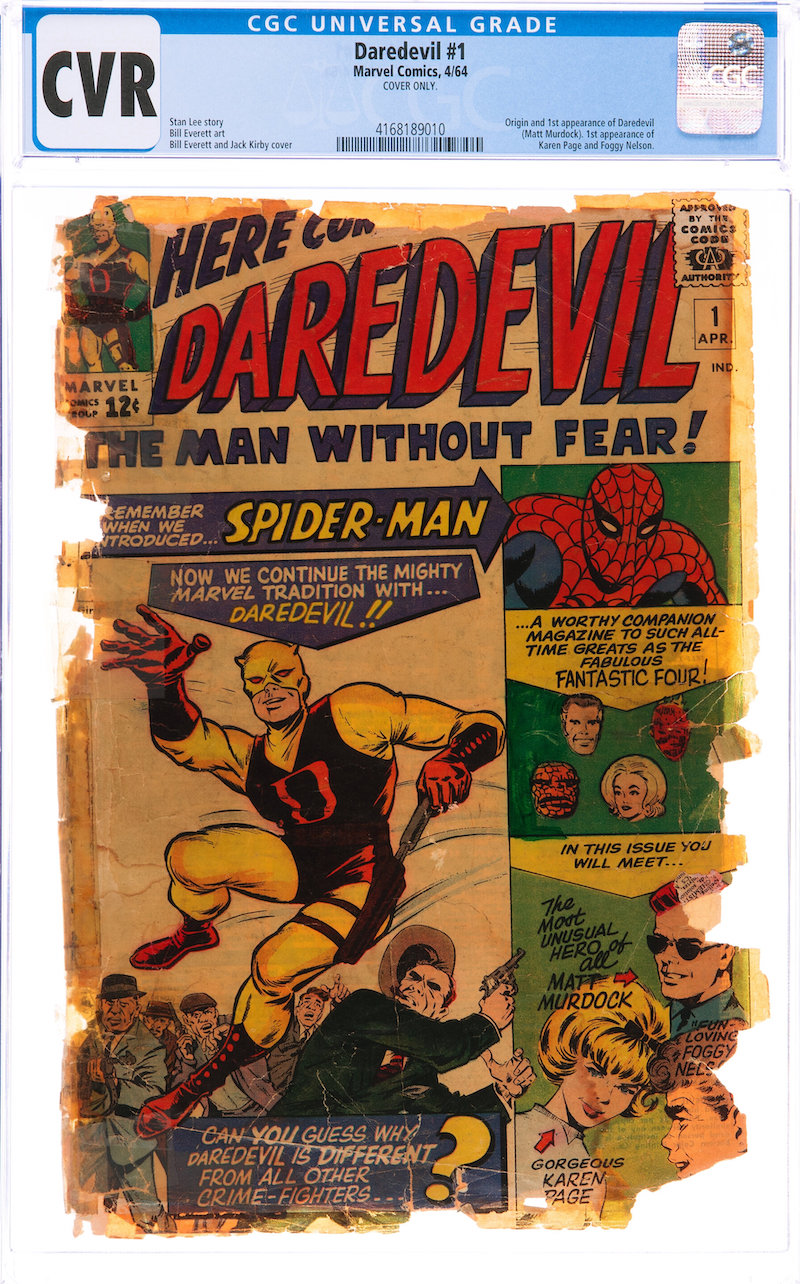 When CGC first started, and for quite a while, you submitted comic books. Complete comic books. At least that was the intent. Many disappointed collectors opened their returned submission to find out, turns out it wasn't complete after all. Now, it's become common for submissions to be just the cover, or even just a single page from a comic book. Not only that, collectors happily pay big bucks for those covers and single pages. I was fairly surprised to see somebody laid down $432.00 for what CGC calls a Daredevil #1 cover, but looks more like a sorry fragment of a cover to me.
Mystic Comics #10 (Timely, 1942) CGC GD- 1.8, $3,360.00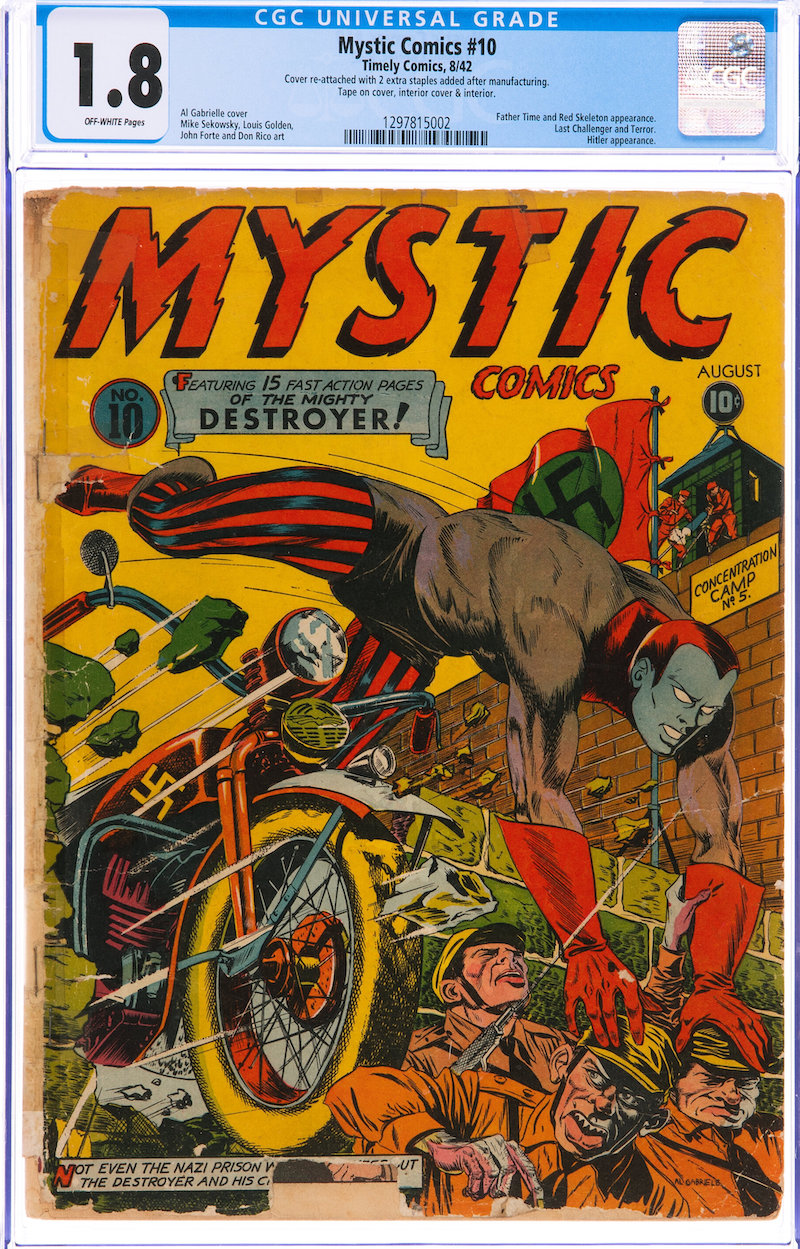 Why have fantastic Timely titles like Mystic Comics historically played 2nd fiddle to Marvel Mystery Comics and the big 3? This stuff has always been equally intriguing for me. They are much harder to find. Many of the key characters, like the Timely top tier, also have counterparts in later eras. And what is not to love about books like this? Not only do you have that incredibly powerful and nostalgic World War II in comic books feel, you've got The Destroyer! What does he do, exactly? He destroys things! Stuff like Nazis and monsters. And yes, this beat up CGC GD- 1.8, looking very much like a 1.8 should, pulled in an awesome $3,360.00. Huzzah!
Super Mario Bros. #1 (Valiant, 1990) CGC NM 9.4, $660.00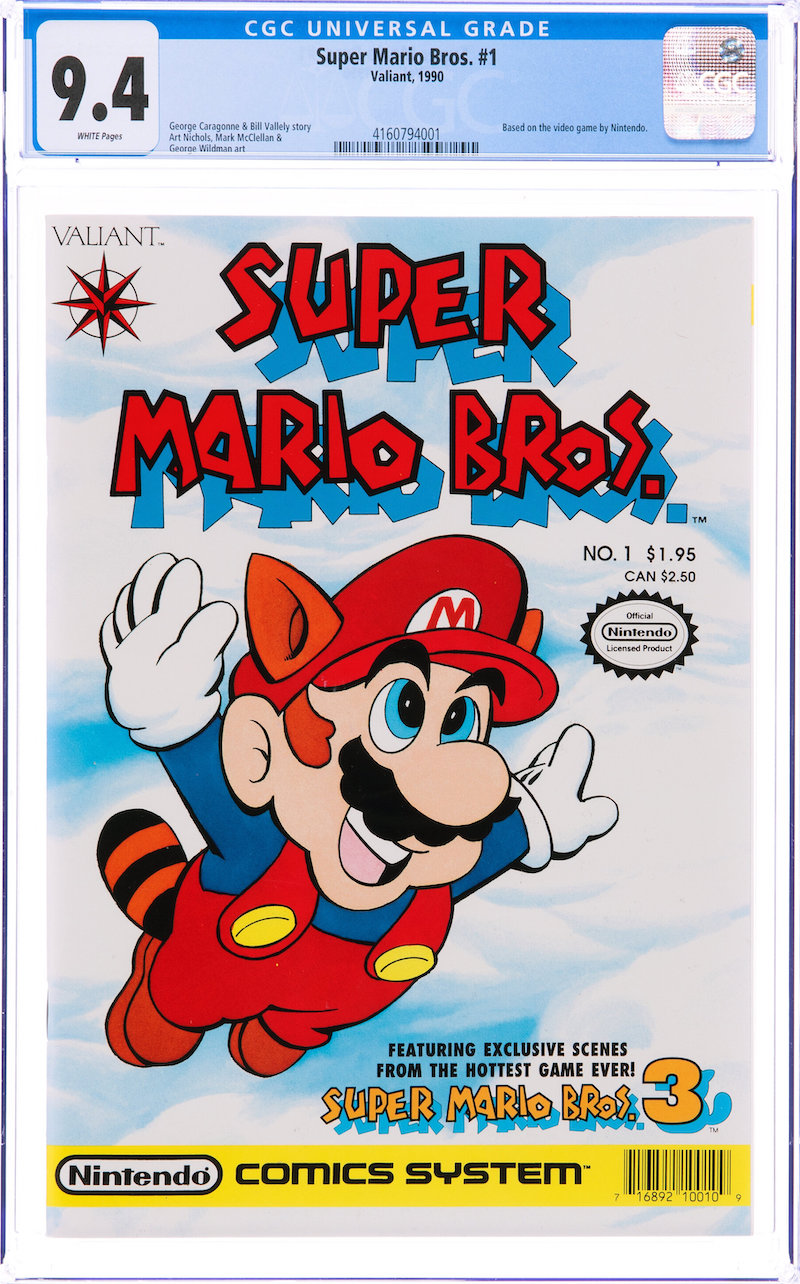 From trash to treasure. Back in 1990, you didn't need to buy a Super Mario Nintendo game to get a copy of this, you could lay down $1.95 just like the hot Valiant titles of the time. Problem is nobody did. At that time, nobody wanted a comic book about a video game. And so, as far as the eye could see inside a comic shop quarter box, these were present and plenty. For a quarter! Westfield Comics almost had to give them away. I'm sure plenty of them were given away, and not sold for $660.00 like this and other copies.
Batman #399 (DC, 1986) CGC NM/MT 9.8, $1,140.00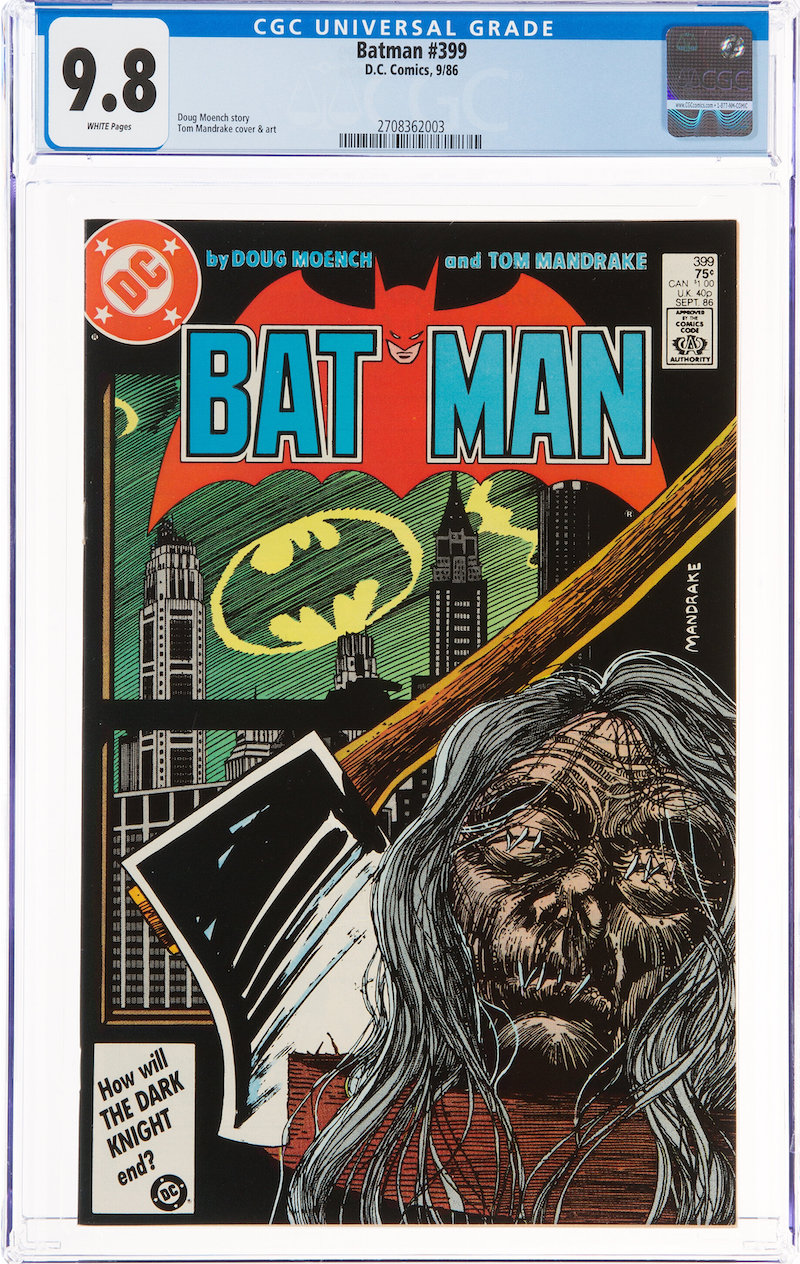 In the Way Overpaid Department, we have a CGC NM/MT 9.8 copy of Batman #399, selling recently via Heritage for an insane $1,140.00. The big draw is that it features a grisly shrunken head cover. Is that what that is? I'm sorry, no disrespect to Tom Mandrake, but this is just not a great cover. The background is pretty low effort, and how does an axe apply to a shrunken head? There is nothing freshly sliced about a shrunken head. Even if this is one of your collecting niches, it's just not worth that kind of money. There are probably still unopened cases of this book. The Overstreet NM- 9.2 value (posted by Heritage in the auction listing) is $12.00, and I would agree with that, or claim even that is high. I'll close with the typical comment made when emphasizing a high auction hammer price - there were actually two collectors willing to go (nearly) that high.
X-Men #4 (Marvel, 1964) CGC VG 4.0, $1,200.00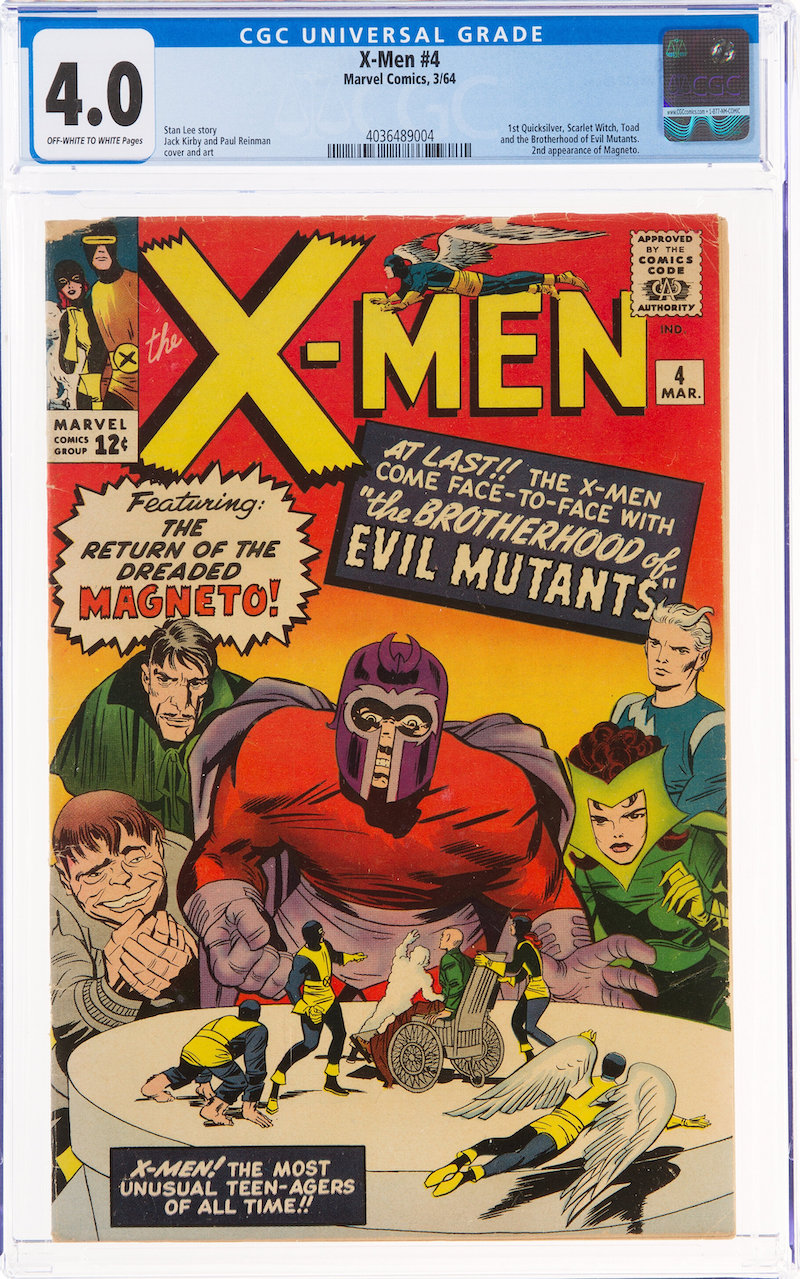 X-Men #4 is unquestionably an uber X-Key, mostly due to containing the 1st appearances of The Scarlet Witch and Quicksilver, and the 2nd appearance of Magneto. Last summer it peaked in value, with CGC VGs going for $2,000.00 to $2,500.00. Here you see a CGC VG 4.0 dropping to $1,200.00 in a recent Heritage Auctions sale. Time to finally consider buying? Or time to sell before it drops further? Either way, this will always be a high demand book and a classic Marvel key. So what is the point I'm trying to make by including this sale, in this market report? Read on...
X-Men #4 (Marvel, 1964) Uncertified VG 4.0, $1,320.00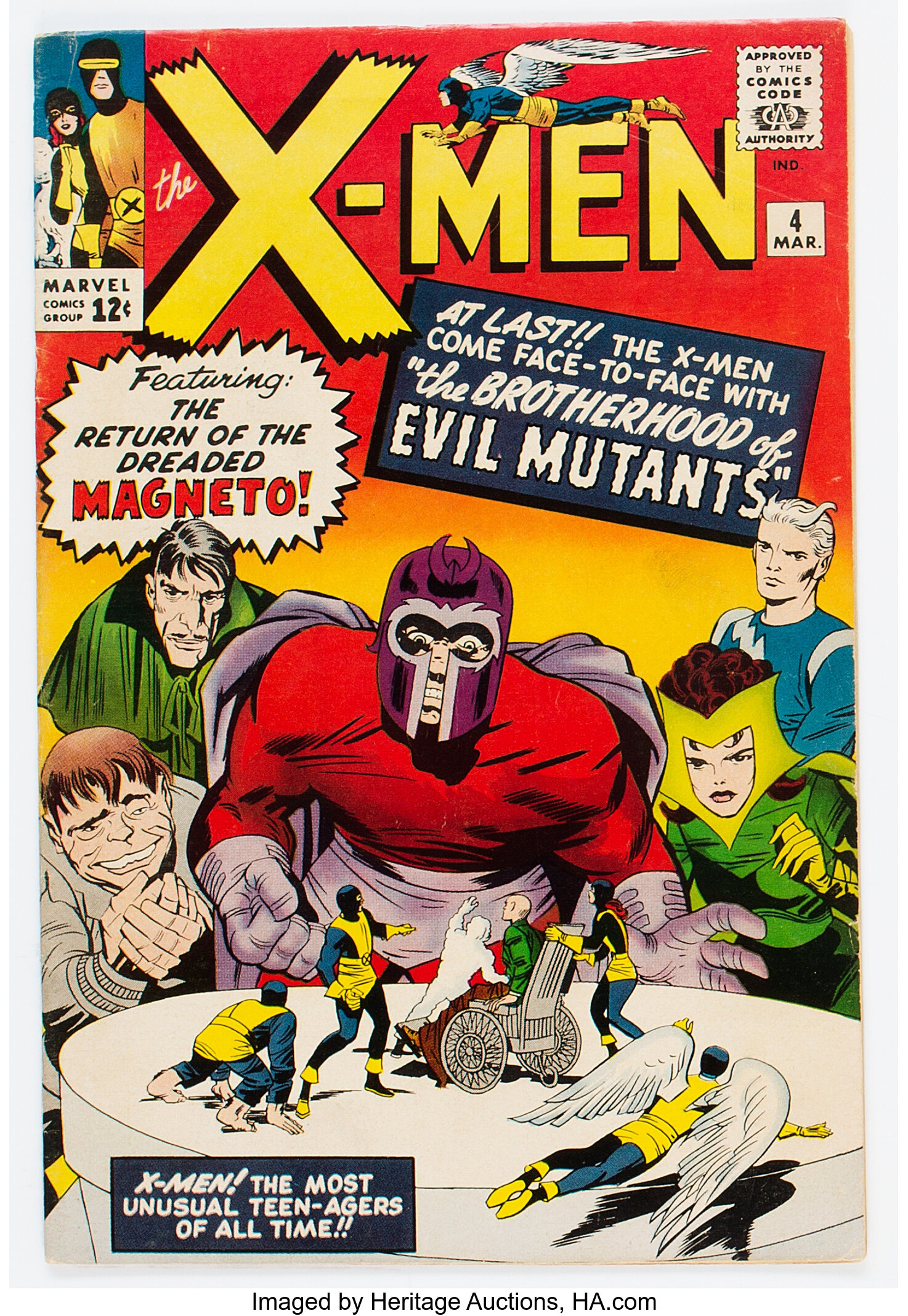 This is another interesting phenomenon I've tried to draw you attention to in the past. Think about what we have here - the same book, in the same grade, selling in the same Heritage Auction. The only difference is that one is uncertified, the other is CGC certified, yet the uncertified copy sells for quite a bit more! I can't say for certain what went down under the hood here, but I can repeat points I have previously made. 1) Collectors trust Heritage graders. Perhaps, many have come to find, if anything, they will be conservative and tend to undergrade? 2) When there is faith in the grade, there is a type of collector who puts additional value in being able to open the comic book and carefully look inside. Whatever the reason, it's a bit curious that the uncertified copy went for $1,320.00.
Wonder Comics #11 (Better Publications, 1947) CGC FN+ 6.5, $1,200.00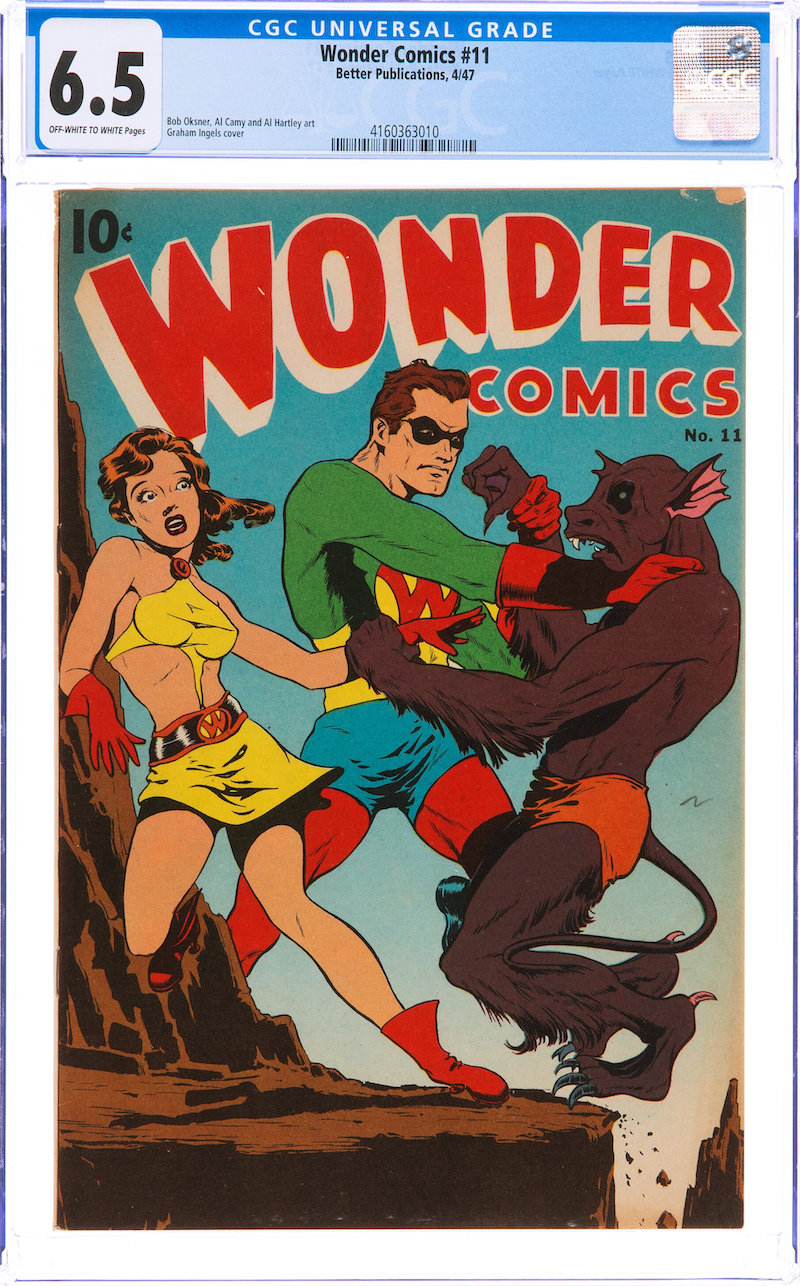 We've seen an MLJ craze years back, a Fox craze recently, next I think we'll see a sharp rise in interest in the Nedor/Better/Standard titles. Here's a cool one with, (better sit down) a sharp price increase. I'll tell you what I like about this book. A Wonderman cover is fine, but it's the quality of this cover by none other than Graham Ingels, who would later gain fame as Ghastly Graham Ingels on E.C. horror titles, Haunt of Fear in particular, that stands out. We get a glimpse of things to come with this fantastic rat-like monster villain. While $1,200.00 was a big increase for this book, it doesn't surprise me a bit.
Boy Detective #2 (Avon, 1951) CGC VG/FN 5.0, $576.00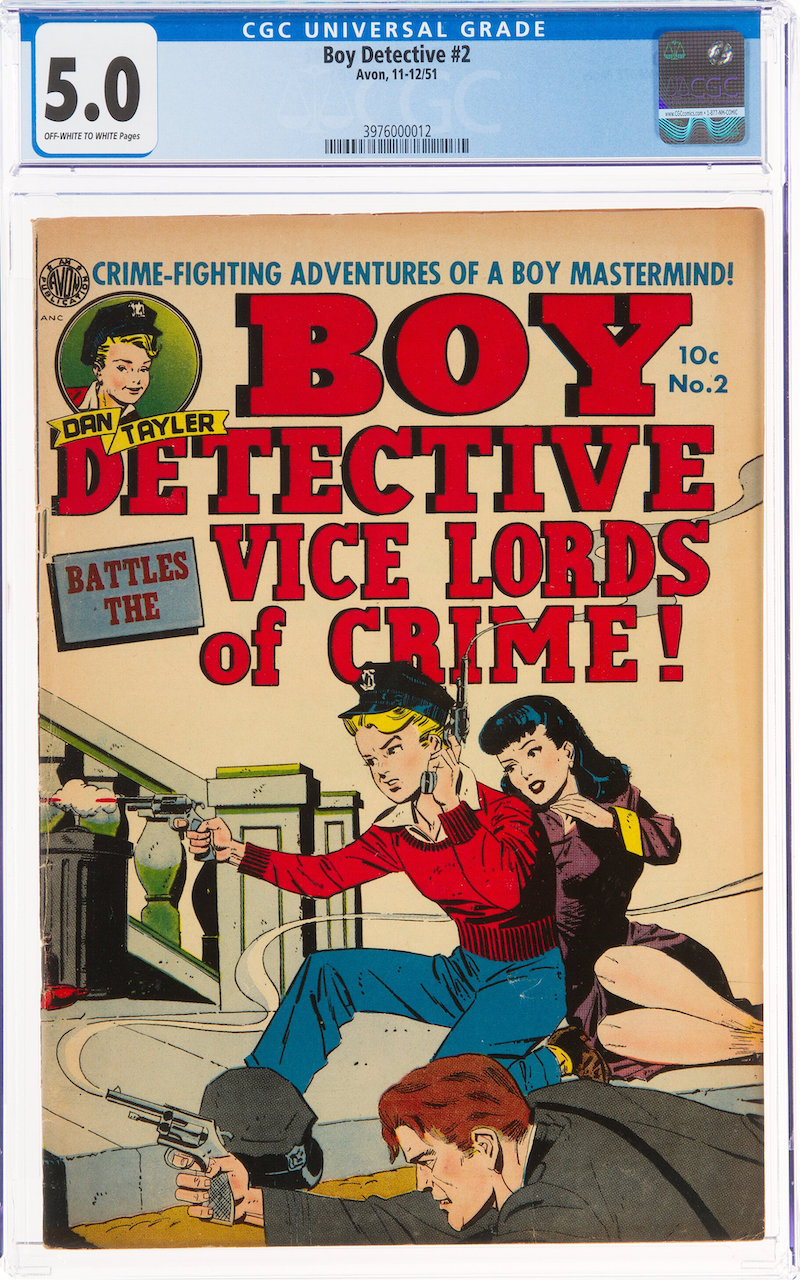 I know I harp on this a lot, but another set of key data to look for when assessing collectibility is Census. Keep the context in mind though as well. A comic that very few if any people care about will have a low Nostomania Census (since few if any have it in their collections) and low CGC Census (since few if any believe it has value). Avon was responsible for quite a few esoteric titles during the early 50s, and this is a good example. What caught my eye though, is that the CGC Census for this book is only 2. If you can come up with a FN/VF 7.0 copy, you have the Finest Known, as of today. $576.00 was a huge jump for this book, but it has lots more room. Who is the Boy Detective? Why it's Dan Tayler, you can tell by the hat! And he gets so much big cover title wording that there is less than half of the cover left for the babe he's protecting.
USA Comics #9 (Timely, 1943) CGC FN 6.0, $15,000.00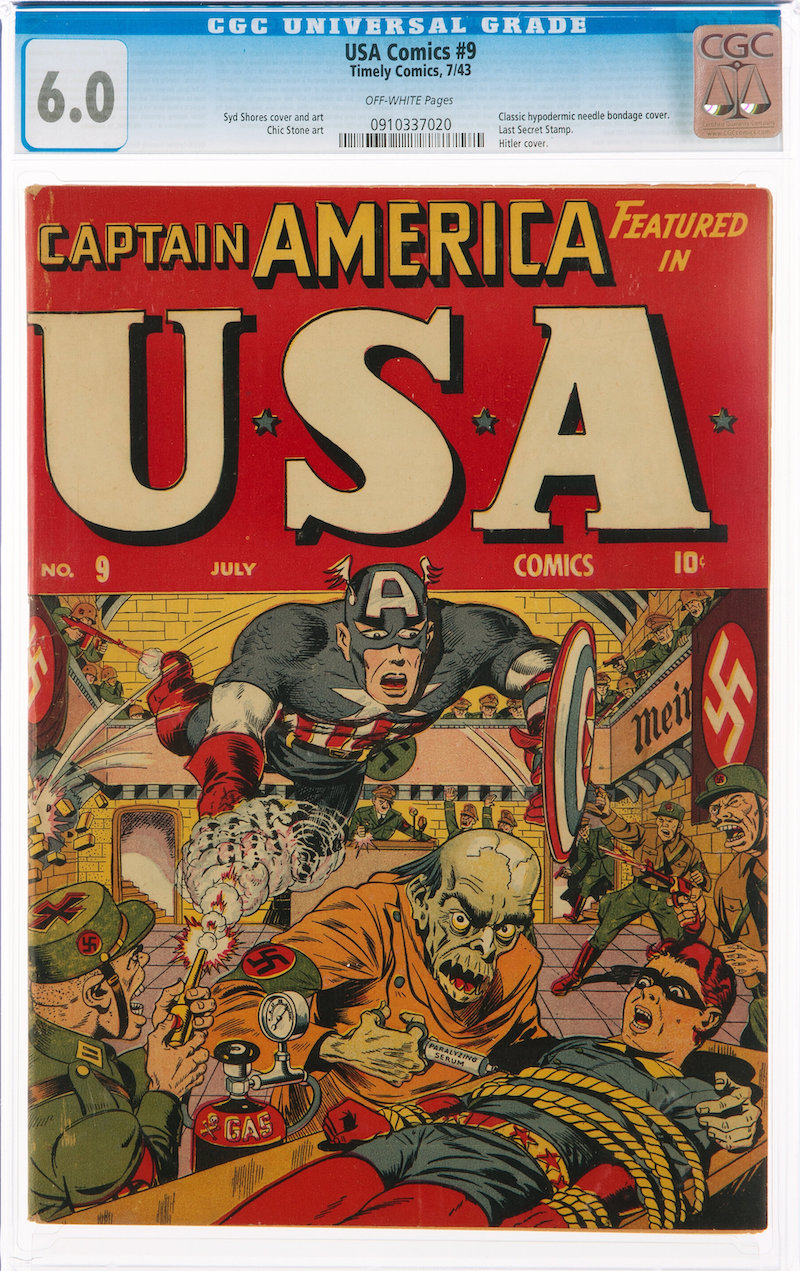 Remember earlier in the report when I was lamenting the big 3 Timely heroes (Captain America, Human Torch, Sub-Mariner) getting all the attention? As I came across this sale, I was reminded, there is good reason for that. I'm at the point I'm no longer shocked by seeing $15,000.00 change hands for a book like this. What more could you want in a cover? Captain America, Hitler, Nazis, a monster, a hypodermic needle, and generic gas! And how often do you see it? Seems like a lot less than the Census would suggest.
1796 $2 1/2 No Stars on Obverse, BD-2, R.4, PCGS MS-63, $990,000.00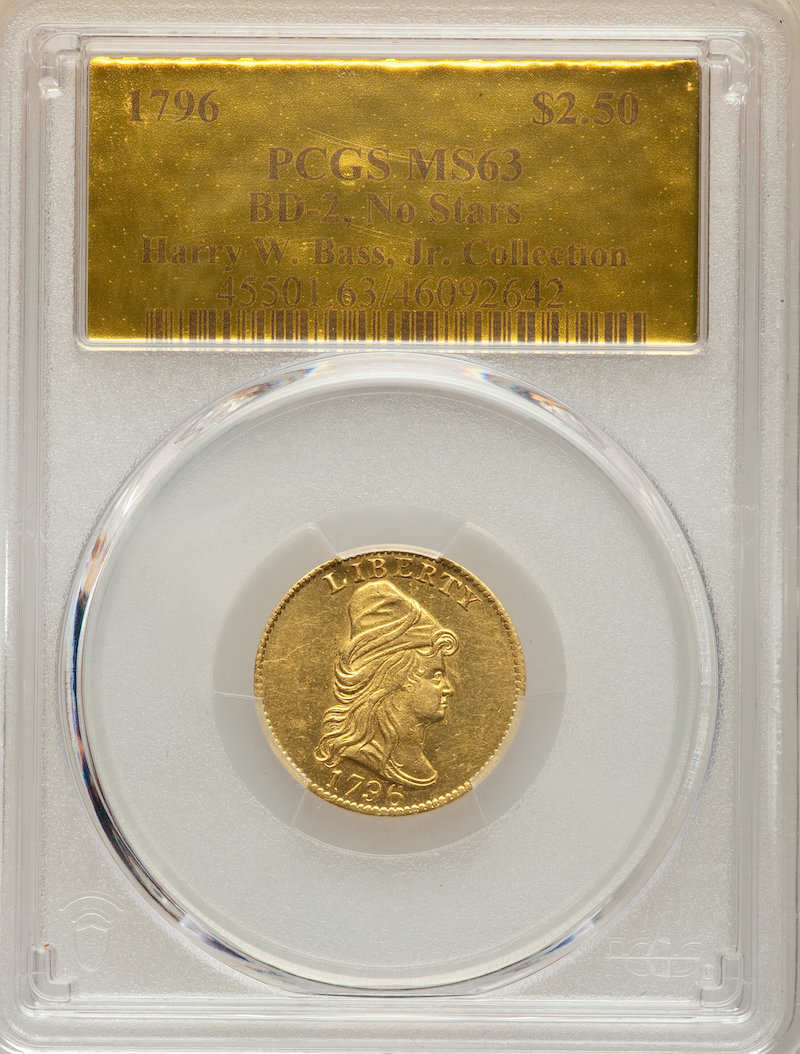 A truly remarkable coin sale this quarter was this 1796 Quarter Eagle from the Harry W. Bass, Jr. collection. This PCGS MS-63 auction sale came about as close to a million dollars as you can. Was 10 grand the next bid increment? Listed in the 100 Greatest U.S. Coins (compiled by Jeff Garrett and Ron Guth), it is also in our Top 100 list by value, and I'm looking forward to seeing how many places it jumps from #58 after this pricing update. With an original mintage of 963 coins, it is believed around 100 or so are still accounted for. To really curl your hair, consider there are maybe 4 to 6 BD-1 examples still accounted for.
1891-CC Morgan Silver Dollar, PCGS PO-1, $1,020.00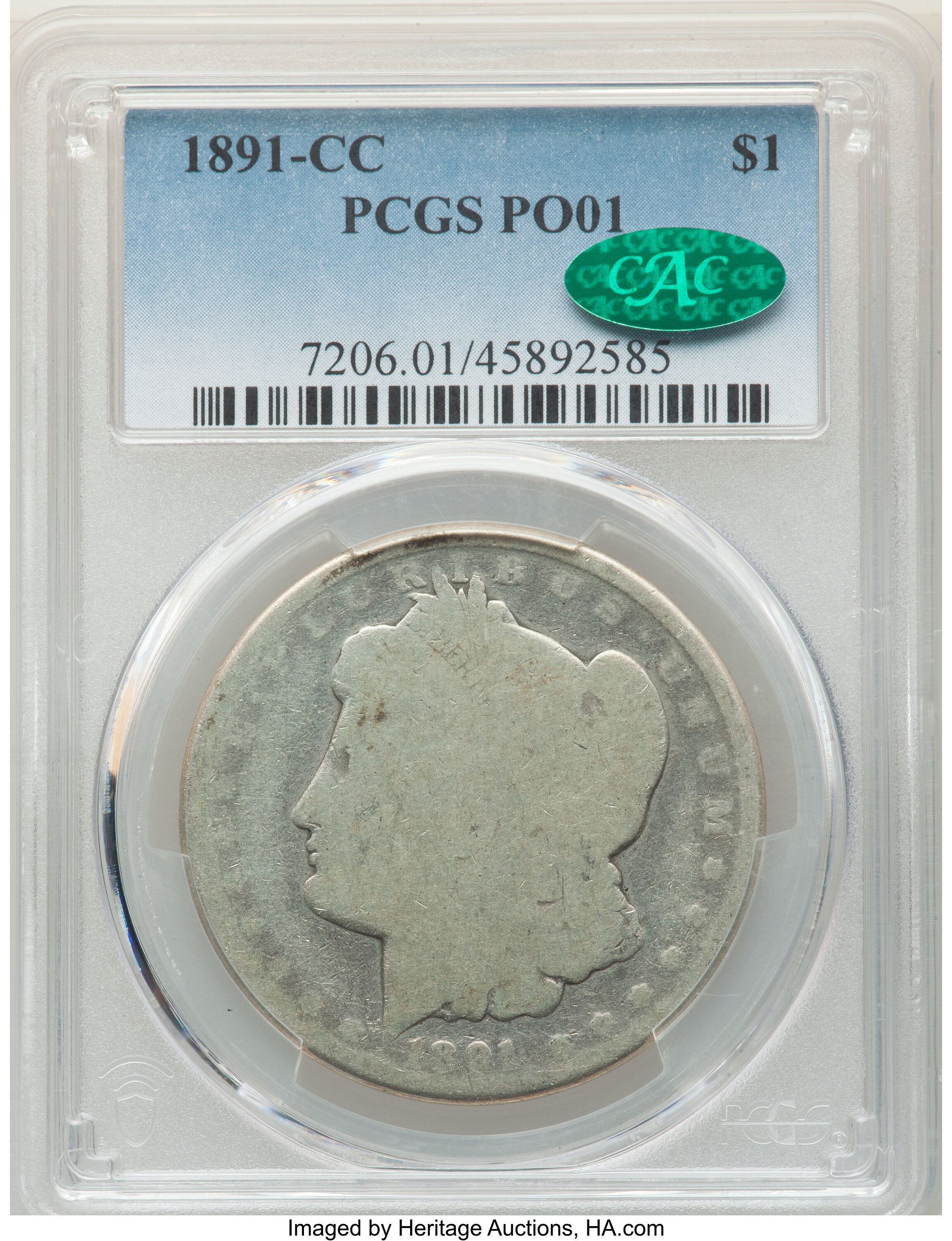 The lowest possible grade for a certified coin. It feels like so often when I see a certified PO-1, it's a Carson City Morgan. Even though there are over 20,000 of these certified by PCGS alone, only four of those are PO-1s, this coin still brought in a remarkable $1,020.00. Isn't the CAC sticker a bit of an oxymoron for this coin? How do you have an exceptional example of a PO-1?
Heavy Metal #54, CGC FR/GD 1.5, $99.00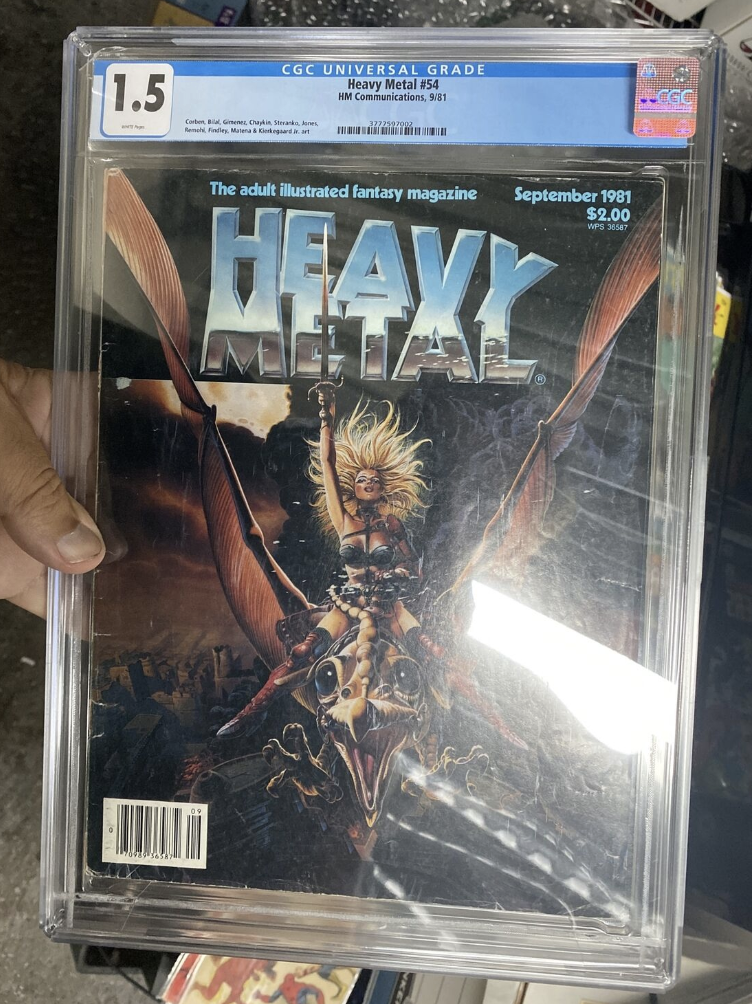 I found out this magazine was hot back when my older brother sold his original copy, and was surprised how much he got. Featuring the 1st cover appearance of Taarna, this magazine is apparently worth slabbing in any grade. The CGC FR/GD 1.5 copy shown sold on eBay for $99.00. I imagine there are plenty of copies lurking out there that could be picked up really cheap, keep your eyes peeled.
---
---