NostoNews, February 1, 2021
by Tommy Jasmin
Collectibles are on a Tear
---
Nostomania 500 Index Hits All-Time High
Apologies up front to our Premium Subscribers - due to time crunches, this month's NostoNews is essentially the email newsletter you recently received, I promise to make that up to you next month! At the close of the most recent Heritage Signature Auction, the Nostomania 500 jumped 3.3% to an all-time high of 1,643.58. I've never seen anything like the sales during 2020, and particularly in this auction. I know everybody is marveling at the sale of the CGC NM 9.4 Batman #1 for $2,220,000.00, and rightfully so for the hammer price. However, as a percentage of current Nostomania value, that was a decent, but not insane jump. The real movers were books like Detective Comics #359, CGC NM/MT 9.8 at $132,000.00. That was 4X Nosto value, and I doubt any other pricing services were close, if they even compute a 9.8 value. Batman #227 CGC NM/MT 9.8 for $31,200.00. Fantastic Comics #3 CGC PR 0.5 for $20,400.00, and so many more. Just astounding numbers.
Not sure who will notice, but we fixed a bug in the stock index code that was causing an artificial index "correction" with each quarterly pricing update. This was pointed out in an analysis of the index during a meeting with ICv2.com's Milton Griepp.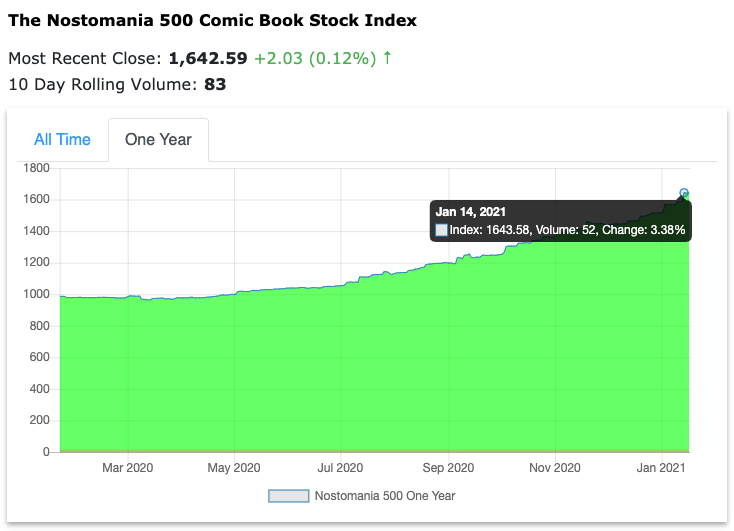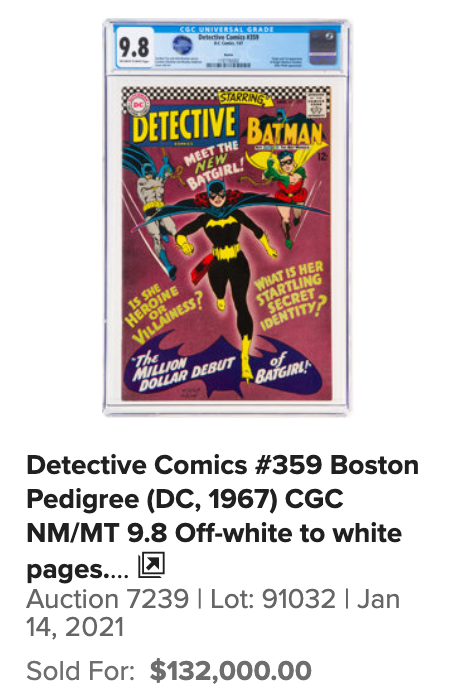 ---
PCGS 3000
I want to remind everyone it's not just comic books that are doing well, it's most collectibles, including remarkable growth in collectible video games. There is active debate on the drivers - from stimulus money, to wealthy investors diversifying their holdings, to the simple idea that more people working from home means less supervision, more online browsing, and more clicking on that "bid" button.
Is anyone aware of other collectibles indeces? The only one I am aware of is the PCGS 3000 for coins. This shows a similar growth trend as the Nosto 500 - a dip during initial COVID-19 lockdowns, then a sharp rise.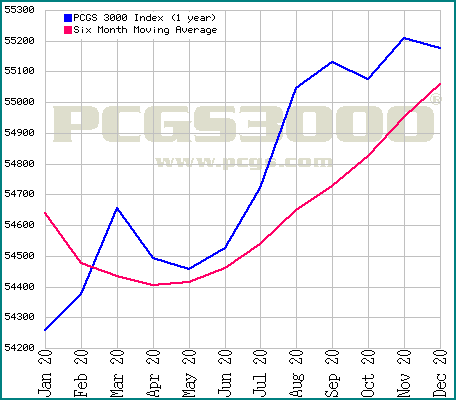 Magazines
Often overlooked is Nostomania's support for collectible magazines. We actually get decent attention here since, even though our database is still fairly small, I believe we might be the only online pricing service for magazines that is driven by actual sales. There was a nice article recently on Flipsy which referenced Nostomania's support for collectible magazines, please check it out!
---
---