NostoNews, July 1, 2023
by Tommy Jasmin
3rd Quarter 2023 Market Comments
---
Hey everyone! Weclome to blazing hot summer. Unfortunately, the collectibles markets aren't (on the whole) blazing hot. The Nostomania 500 has dropped under 8,000, and seems to be settling out there. There are some bright spots though - you just need to be smarter about what you buy now. Unless of course, you don't care much about investment, and collect out of love alone for your chosen hobby. But hey, it's always nice when you end up with more money than you started. Strange time - stuff we're used to climbing is tumbling, stuff typically stagnant is on fire. Never a dull moment. Enjoy the market report and hang in there, we are busy here with coll stuff a-brewin'.
---
Detective Comics #126 The Promise Collection Pedigree (DC, 1947) CGC NM 9.4, $7,800.00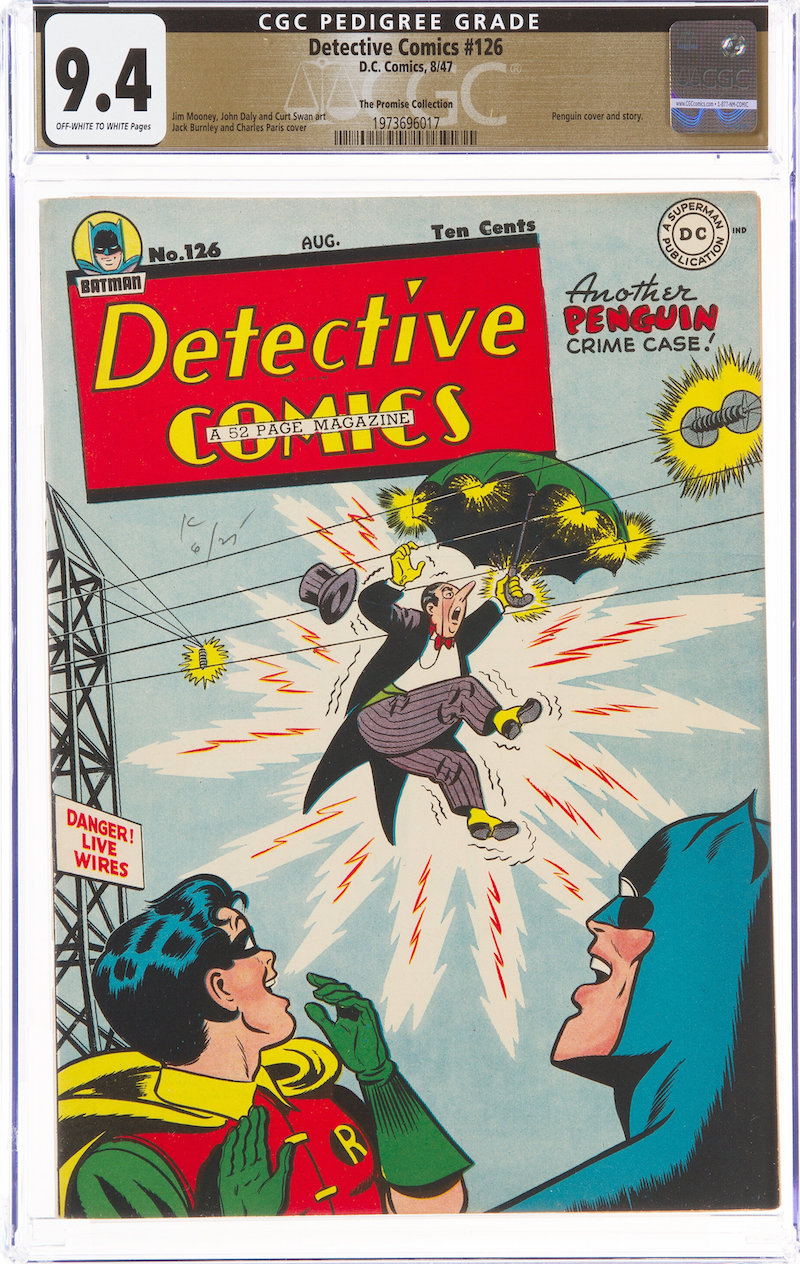 If this doesn't exemplify market correction, I don't know what does. The Promise Collection hit the market at the best possible time for the lucky consignors. Book after book blew people away and set records. The hope that the Mile High collection left behind for the existence of more magnificent Golden Age books had been fading, and here was some salvation. Now, as those first buyers from 2021 decide to send Promise Collection back to market and cash in, what happened? They took a bath! Book after book in the Heritage Signature Auction (which just closed this week) went for fractions of what they were purchased for. This one sold for $7,800.00. Seems impressive, right? But drill down on the Nostomania sales data, and look close at our sales chart. This exact same book sold two years ago for $43,200.00. That's a staggering loss of $35,400.00.
Jolly Jingles #12 (MLJ, 1944) CGC FN- 5.5, $5,040.00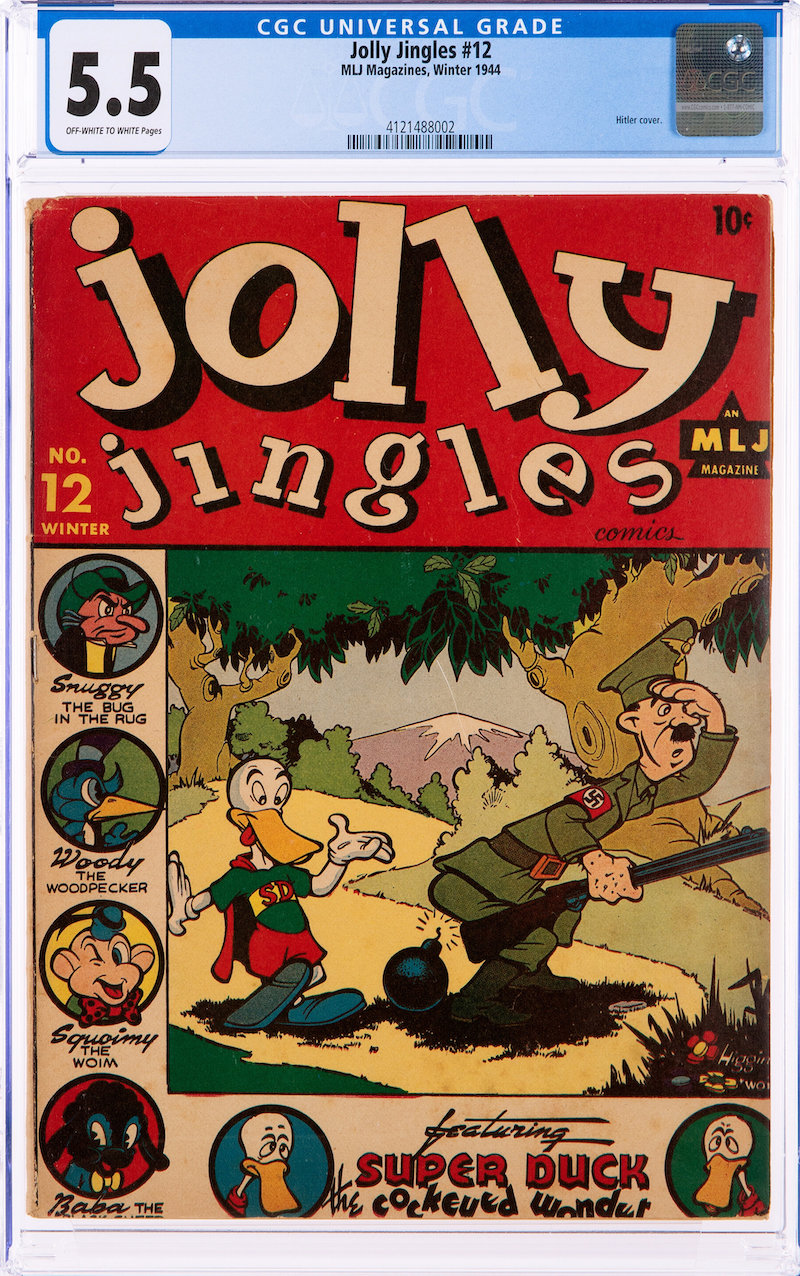 But enough with the downer news. I am here to show you the bright spots and keep reinforcing there are still really cool items and sub-genres out there, that relatively few are aware of, or looking for. When I say "Hitler Covers", you say "Everybody knows that!". However, few think to look beyond wartime superhero titles for these. There are even obscure funny animal titles with Hitler covers, like this rarely seen MLJ from 1944. To be fair I suppose, even Overstreet has this book at $348.00, so even if you found one, you probably couldn't pick it up for chump change. So maybe that extreme scarcity is a good bit of what drove the crazy $5,040.00 sale price here.
Taffy Comics #2 (Rural Home, 1945) CGC FN 6.0, $5,040.00
One more example for the previous topic, but throw in an L.B. Cole cover. I'm finally seeing a renaissance for L.B. Cole covers, and I'm thrilled about it. So much spotlight has been on Matt Baker the past few years, time for Cole to share some of that.
Four Color #1042 The Three Chipmunks (Dell, 1959) Uncertified FN 6.0, $180.00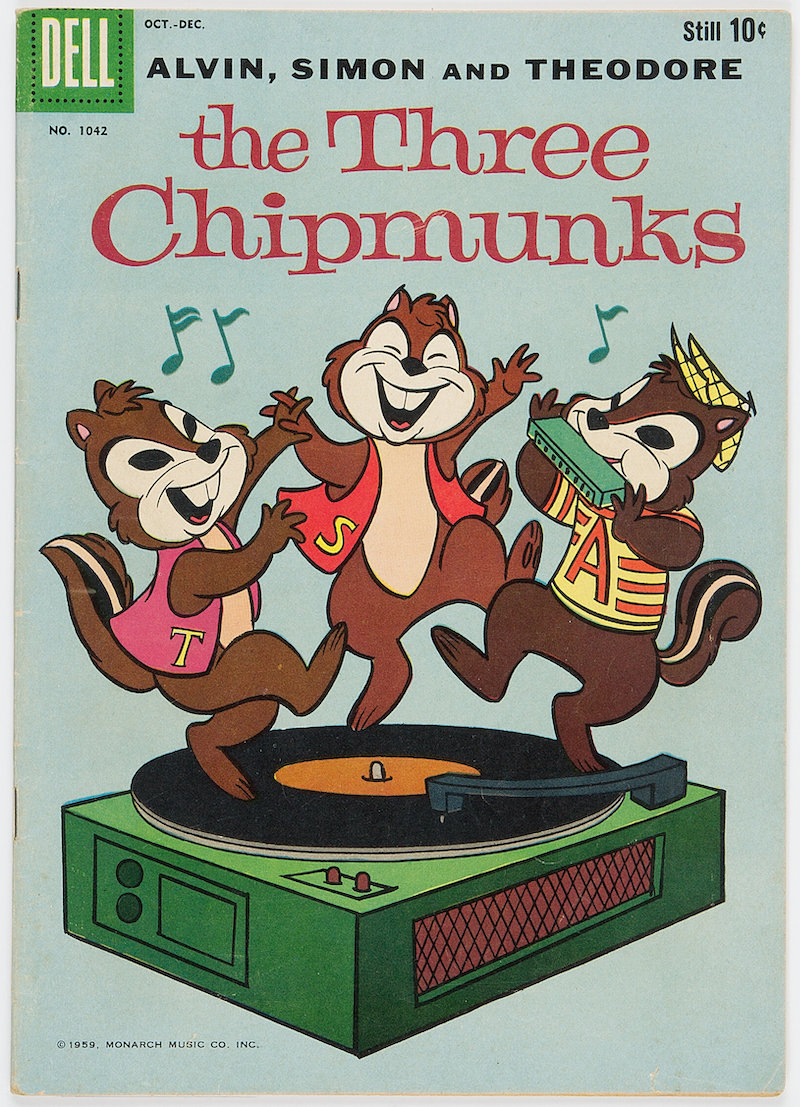 I bet this one flies under radar a lot. Just another late-run, Dell funny animal Four Color, right? What you need to remember, is for so many characters, the first issue of the title was actually an issue of Four Color. Four Color #386 -> Uncle Scrooge #1, Four Color #679 -> Gunsmoke #1. The list goes way on and on. This unassuming book is actually 1st Alvin & The Chipmunks. Ok maybe you're not doing cartwheels, but it is something to look out for - I bet there are still copies in bargain bins. This Uncertified FN went for $180.00.
Out of the Shadows #8 (Standard, 1953) Uncertified VG 4.0, $3,720.00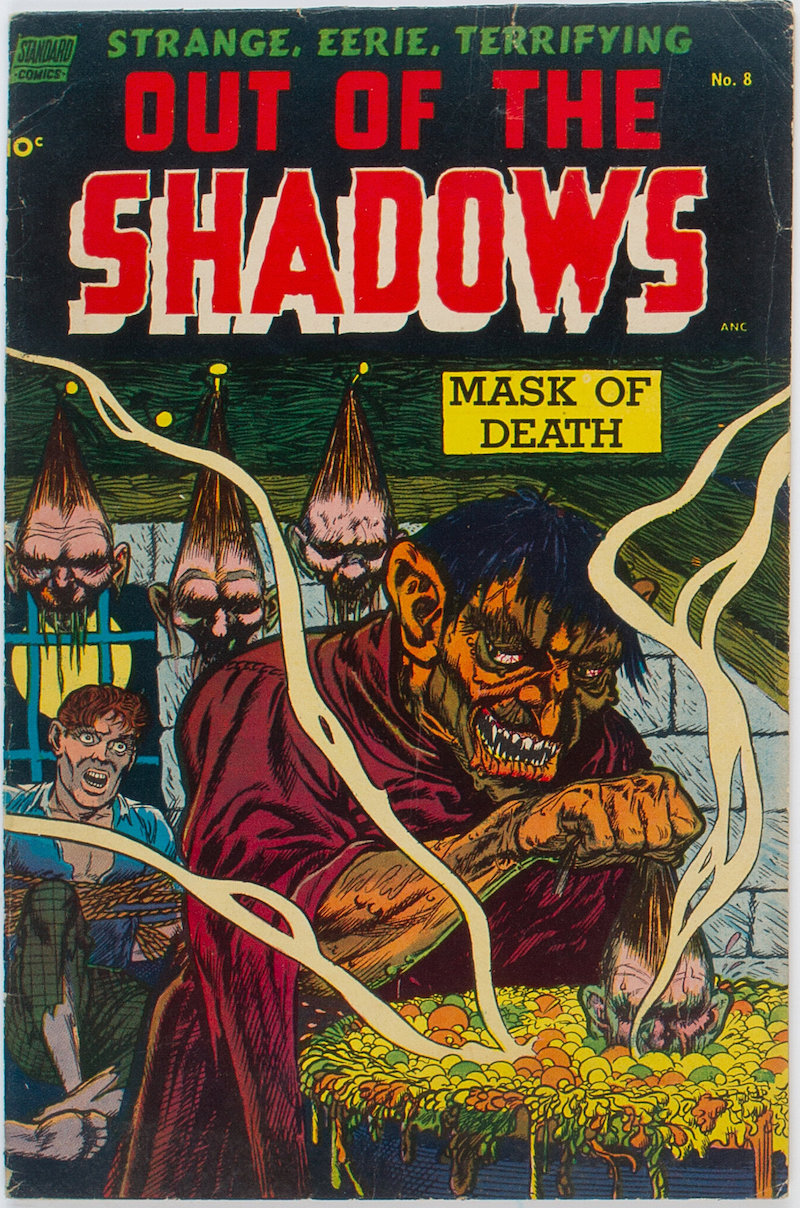 On to some meatier stuff. Pre-code horror is still killing it (groan). Seriously, this is one of the few genres that has continued to climb during the post-pandemic correction. Check this one out - an uncertified low grade Standard from 1953. No slab, no problem. This copy of Out of the Shadows #8, Uncertified VG 4.0, sold recently via Heritage for $3,720.00. And there really weren't many virtues Heritage could extol for this cover, other than the shrunken heads!
Foxhole #4 (Mainline Publications, 1955) CGC GD 2.0, $3,360.00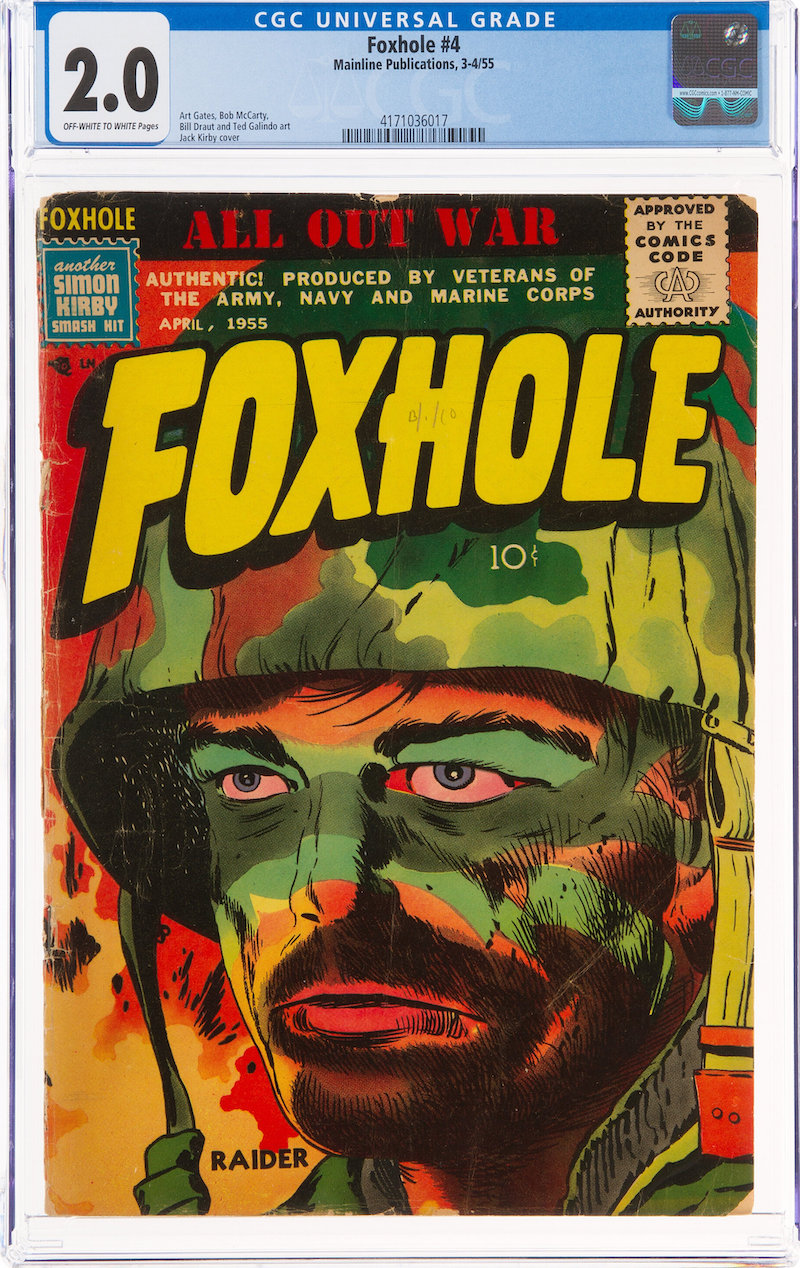 I think the cat is out of the bag on this one, but there is a definite sub-genre for war comics that is driving insane sale prices. War comics, in general I think, were pounded out rather quickly and probably fairly formulaic. Not that I'm an expert, I just know historically they rarely caught my eye. The truly unique and high quality covers seem to now really stand out, and bring a premium. Here's a cool and scarce one. Foxhole #4 stands out not just for a great Simon & Kirby cover, but for the great use of color, with camouflage green against the fiery red and orange, symbolic of how gritty and grim war was/is. Look, you don't reach a $3,360.00 sale price for nothing. True, census is also very much at play on this one also, but pretty neat cover.
Foxhole #5 (Charlton, 1955) CGC FN- 5.5, $3,120.00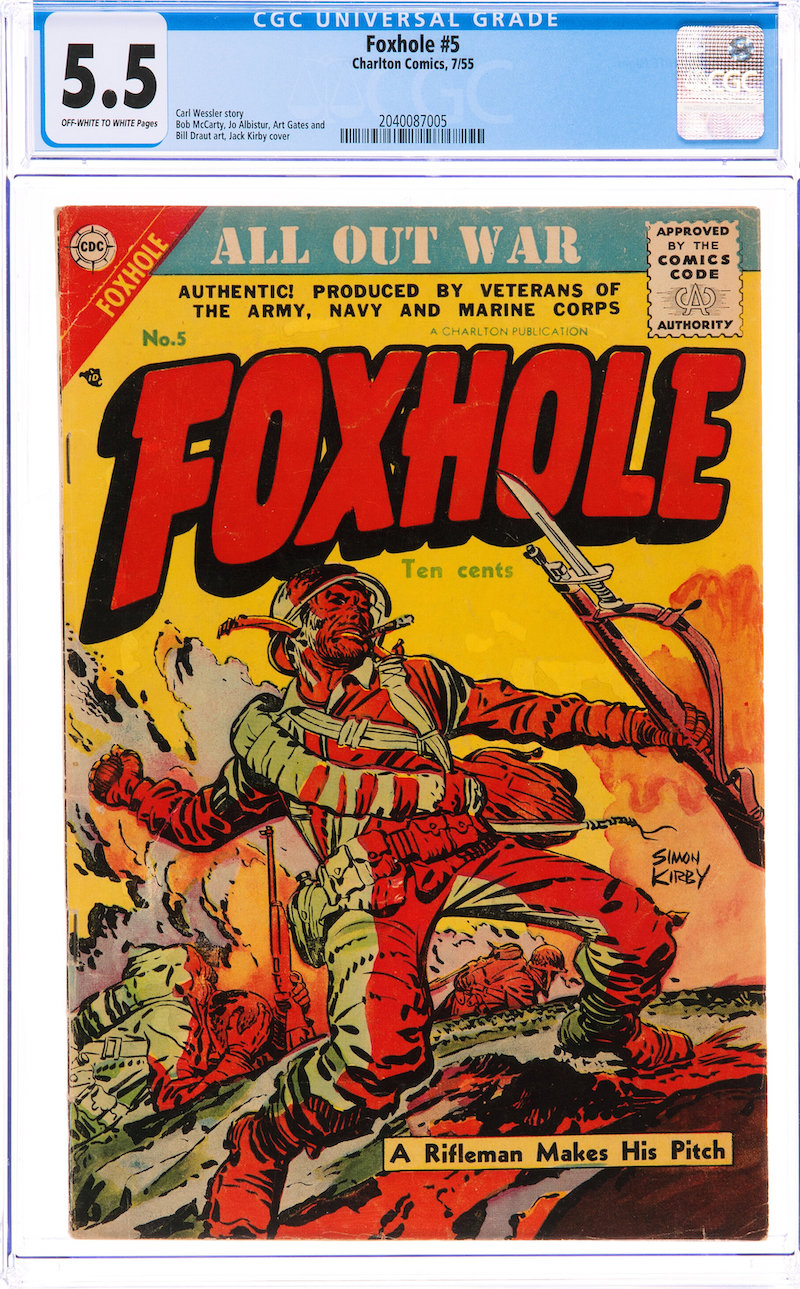 So you have no interest in Charlton Comics? Now you do! In fact now you might just be collecting war comics too! :-) As the above title switched to Charlton with issue #5 (which even comics.org seems unaware of, as they have no record of #5's existence), Simon & Kirby continued the theme from #4 with, in my opinion, an even better cover using the same ingredients. If you ever see one of these, Snap. It. Up! This copy fared a bit lower than it's predecessor at $3,120.00 despite being a much higher grade, and according to the census, scarcer. Please, remember to consider secondary factors when digesting census numbers - it could very well be that many dealers just don't feel that certain comics like these deserve slabbing.
Spawn #1 Newsstand Edition (Image, 1992) CGC NM/MT 9.8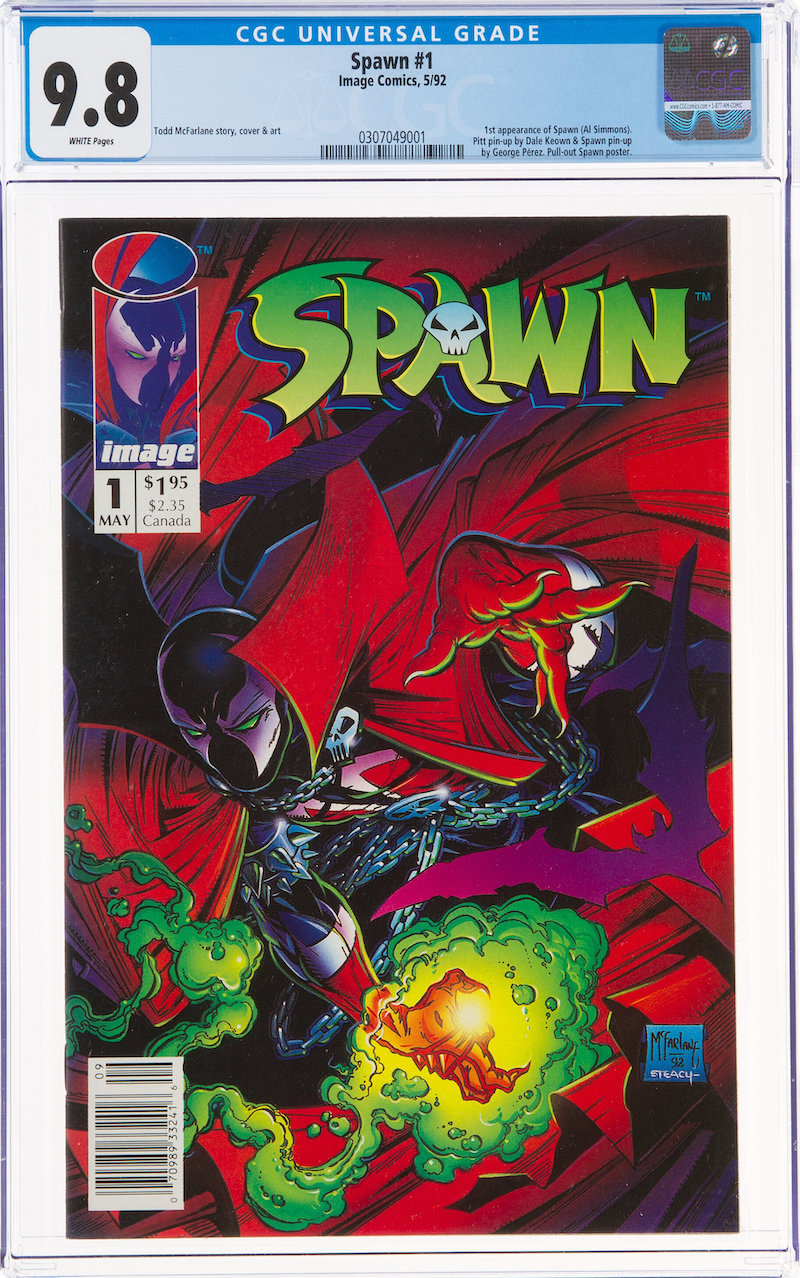 Question: if someone hands you a pile of Spawn #1s, what do you do? Throw them in the garbage? No, silly! You go through them and look for Newsstand Editions! I bring this to your attention to answer a different question - whether Newsstand Editions have more value than Direct Editions. The answer is, only sometimes, and in general only for books that have very high demand regardless. With this in mind, typical examples are Amazing Spider-Man #300 (1st Venom), Ultimate Fallout #4 (1st Miles Morales), and this guy, Spawn #1. The Newsstand Edition shown sold for $720.00, well over 4X the typical price for a Direct Edition CGC 9.8. Personally, I don't get the allure. In fact, Direct Editions are often more visually appealing since the cover artists often drew cool little standalone images in the UPC box. I suppose the driver here is completists, looking to get every variant of an issue. Keep in mind though, at the beginning of the Direct Market, Newsstand Editions were extremely common. Their share of the market slowly dwindled away so that near the end, they were quite scarce.
What Do You Know About This Comics Seal of Approval? #nn (DC, 1955) CGC GD+ 2.5, $3,600.00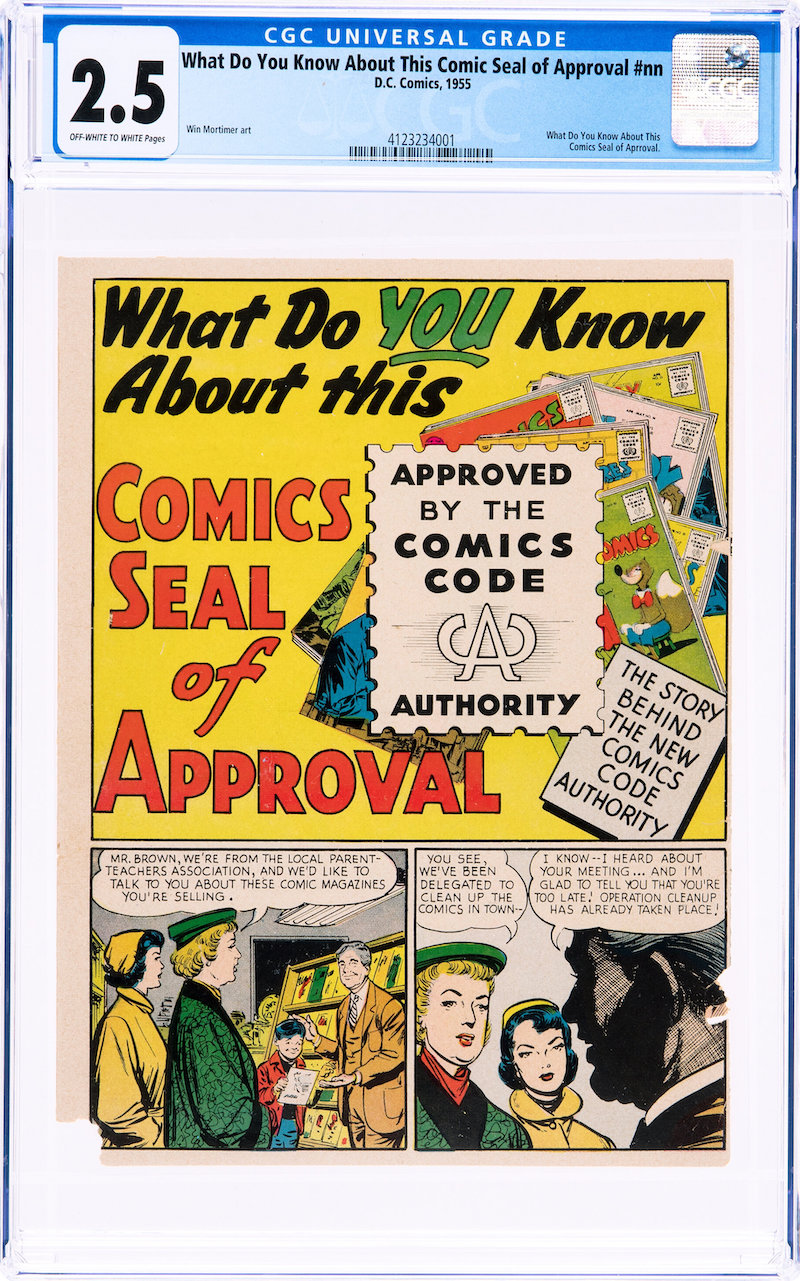 For comics, I'll leave you with one more category that often flies under radar - promotionals. Probably because they were given away, historically many collectors, because of this, drew the inaccurate conclusion they therefore had little value. The truth is, many of these are extremely scarce, have great artists, and cover really interesting and often bizarre topics.
1854-D $3 Gold Piece Variety 1-A NGC AU-58, $93,000.00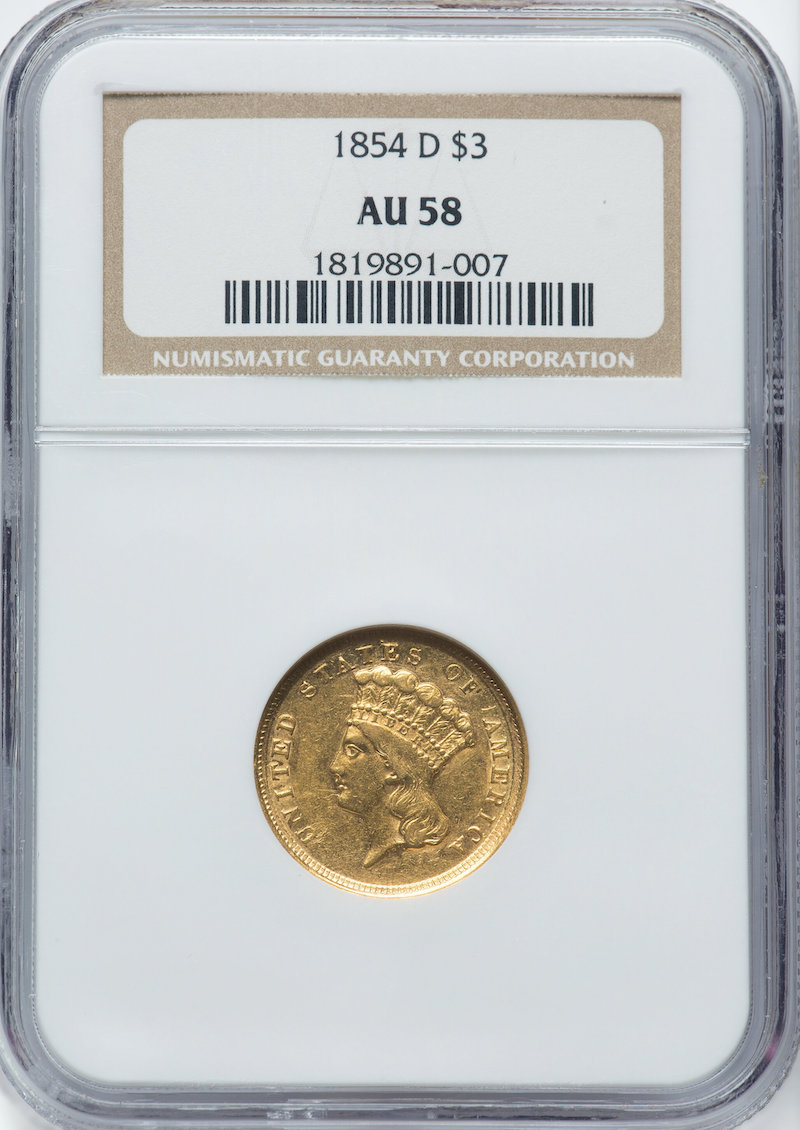 An interesting sale for a few reasons. First, the $3 Gold Piece turned out to be kindof a dud of a coin. It was generally not received well. Similar to the $2 Bill I suppose - people really want money that easily makes sense as a group. Stuff that divides easily in tens, twos, or fours. Four quarters in a dollar makes sense. You know what I mean. As a result, mintages dwindled quickly. The second interesting thing is that, for this coin the mintmark "D" is for the original location, Dahlonega, GA, not Denver, CO. Given few specimens of this coin remain at or near mint state, this one did well, at $93,000.00.
1858 P1C Flying Eagle Cent, Judd-207a, Pollock-244, Snow-PT16d, R.8, PCGS PR-64, $12,600.00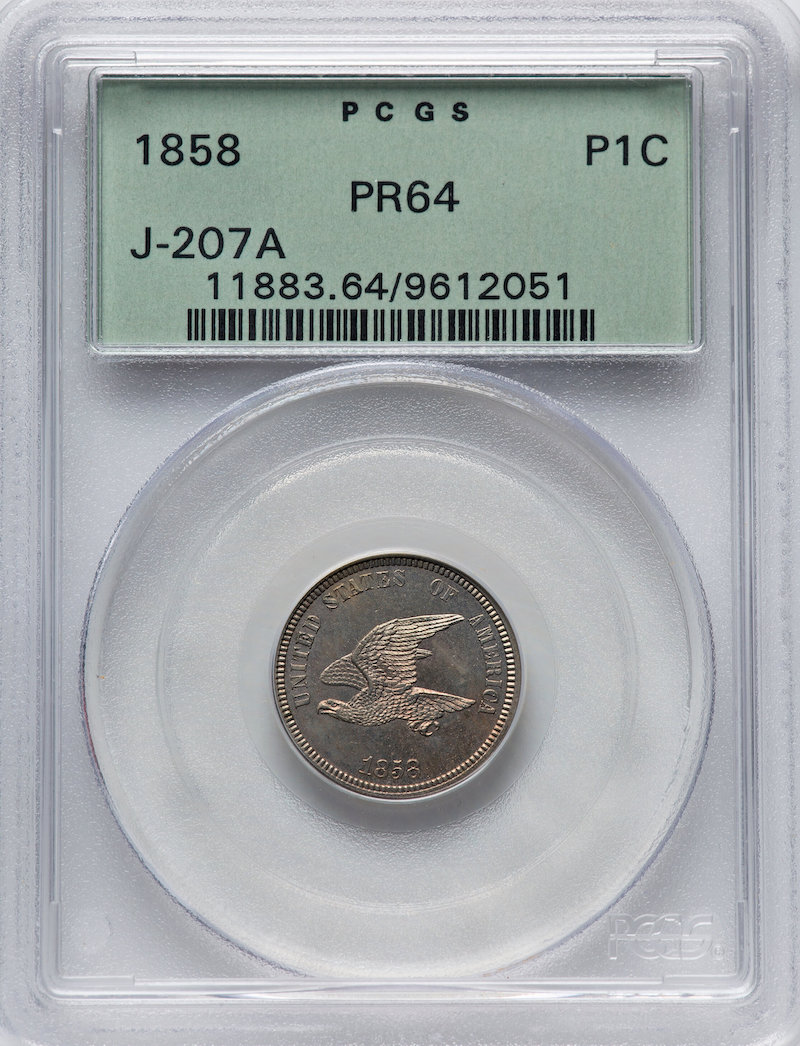 This is a Pattern, so unfortunately it's not yet in our database, but I thought it was a neat sale to highlight anyway. First, check out the early design for the obverse eagle. Second, the coin was struck with "German silver", which is an alloy of copper, zinc, and nickel, and contains no actual silver. But what a cool look for a penny! Only three examples are known to survive to this day, in this composition. This gorgeous example brought $12,600.00 recently via Heritage.
Playboy #1 (HMH Publishing, 1953) CGC NM 9.4, $120,000.00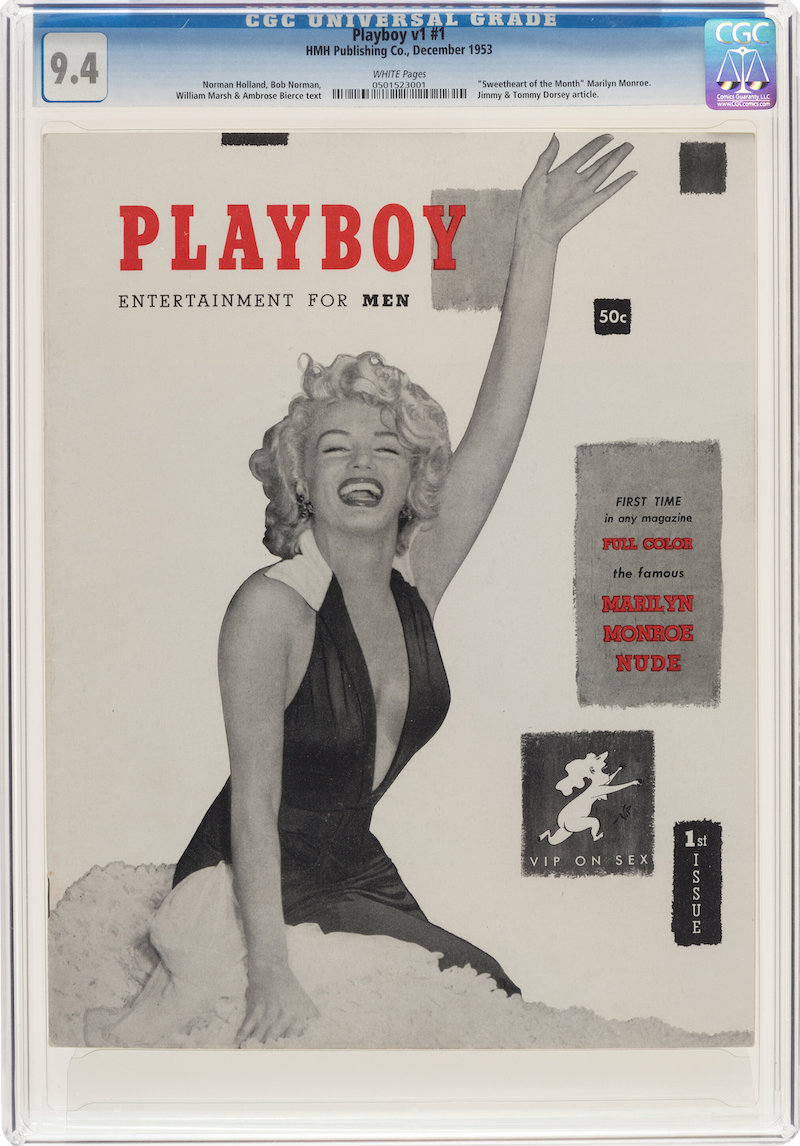 This is an interesting sale, since at the time I write this, the three (all scarcer) variants for this issue are all higher in our Top 100 Magazine rankings, including the Newsstand Edition. This sale alone will likely put the #1 regular issue at the top of the list. Makes you wonder what might happen if any of the other three variants turn up in the same grade. Do people care? Would they beat the $120,000.00 this copy brought in? Time will tell.
---
---