NostoNews, June, 2022
by Tommy Jasmin
Borock off to MyComicShop, Time to Include Those Sales!
---
Borock new Consignment Director at MyComicShop
I'm guessing many of the comic book folks already heard the big news that Steve Borock is leaving CBCS and heading to MyComicShop to become their main Consignment Director.  For anyone surprised or shocked by this, remember that Steve is repeating a similar path he previously followed.  After founding CGC and leading it to become a wildly successful entity, he eventually left to become a Consignment Director at Heritage Auctions.  He later went on to found CBCS, and here we go again.  What we know for sure is Steve loves this hobby, and has unrivaled integrity and respect in it.  My guess is he's just burnt out on grading day-in and day-out, and just wants to go do something else while having fun in the comic book world.  Sure he has gotten to handle some of the single best comic books in existence, but can you imagine coming back from lunch to find a pile of 50 Darkhawk #1's to grade on your desk?  In any event we wish him the best on his latest adventure.
Nostomania Starts Gathering MyComicShop Sales
Speaking of MyComicShop, more and more I have been hearing collectors praise their site and quality of service, and hear Nosto Premium Subscribers mention things like being pleased consigning comics for them to sell in their weekly auctions.  So we decided to add them to our list of "Sale Sources".  Now don't get too excited immediately, because backfilling old auctions is a daunting task that will take awhile, but for now we have implemented a semi-automatic system to capture their auction sales going forward.  In our view, this is valuable data that will further fuel our best-in-class pricing algorithms.
Why Only Semi-Automated?
Unfortunately, like eBay sales, MyComicShop sales will require a quick visual check to confirm each auction sale datapoint is correct before punching it into the database.  The main reason is they aren't yet calling out all variants in the auction description, so some have to get changed on-the-fly.  The most common case is the fact that they don't call out Newsstand Editions, and driven by Premium Subscriber request, we now do. So we need to quickly toggle these with a custom tool.  Here is a typical example, an Amazing Spider-Man #294 Newsstand Edition, in CGC FN+ 6.5.  Why anyone would slab this book in 6.5 is beyond me, but I guess it's just that kind of market - someone actually paid $34.00 for this (any copy in a shiny case?), and the seller may have actually recovered their cost on it.
MyComicShop on the Live Nostomania Site
When you run across an MCS sale on the site, it will behave like any other sale source. When you hover over the sale with your mouse, the details will appear in the lower left corner of the sales data history chart. See the example below for Adventures on the Planet of The Apes #2.  Not too many harvested sales here, so each one matters.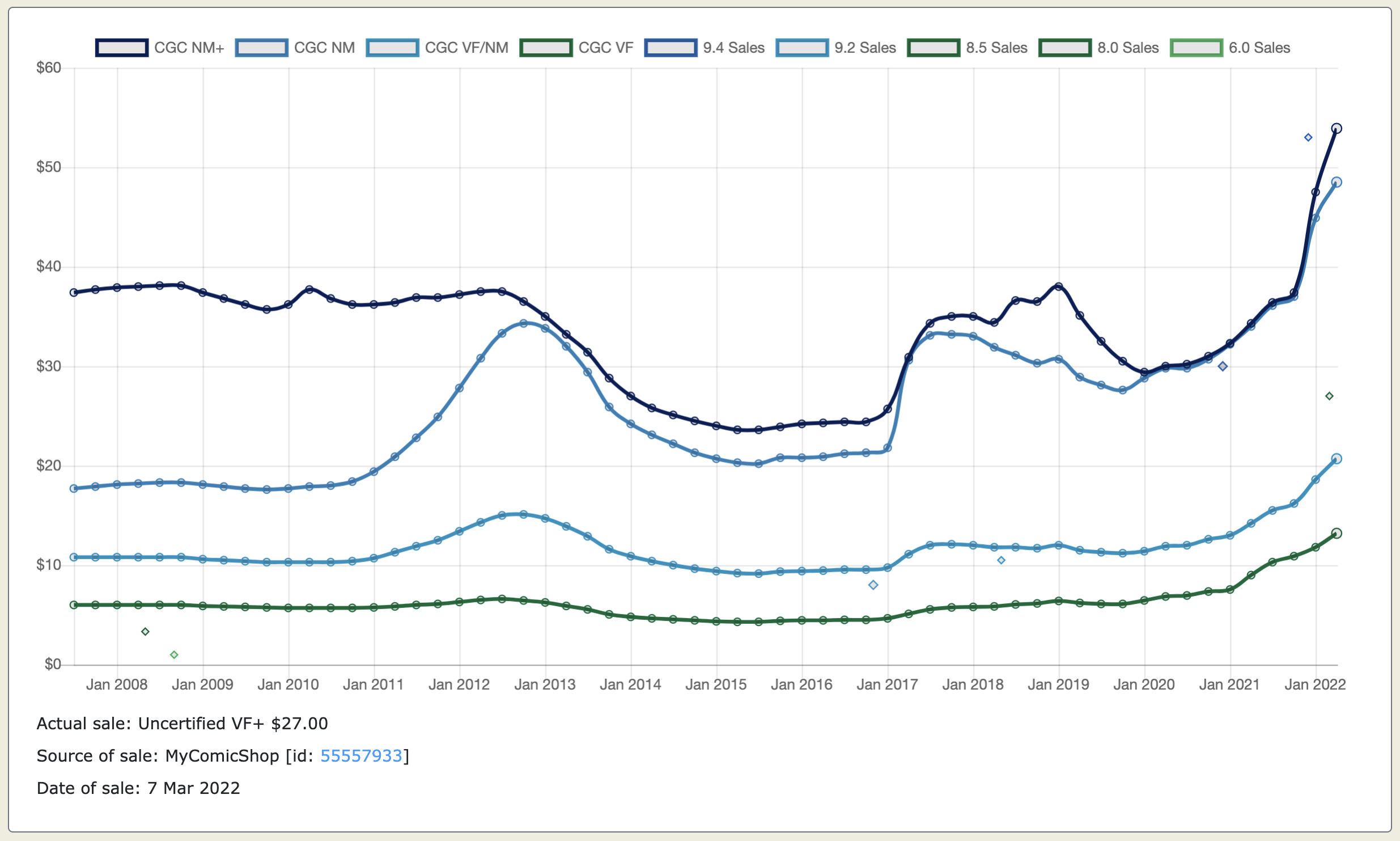 The ID number in the details is the MCS auction lot number, which is a link. Click on it and the original auction page on MyComicShop.com pops up in a new tab (see below).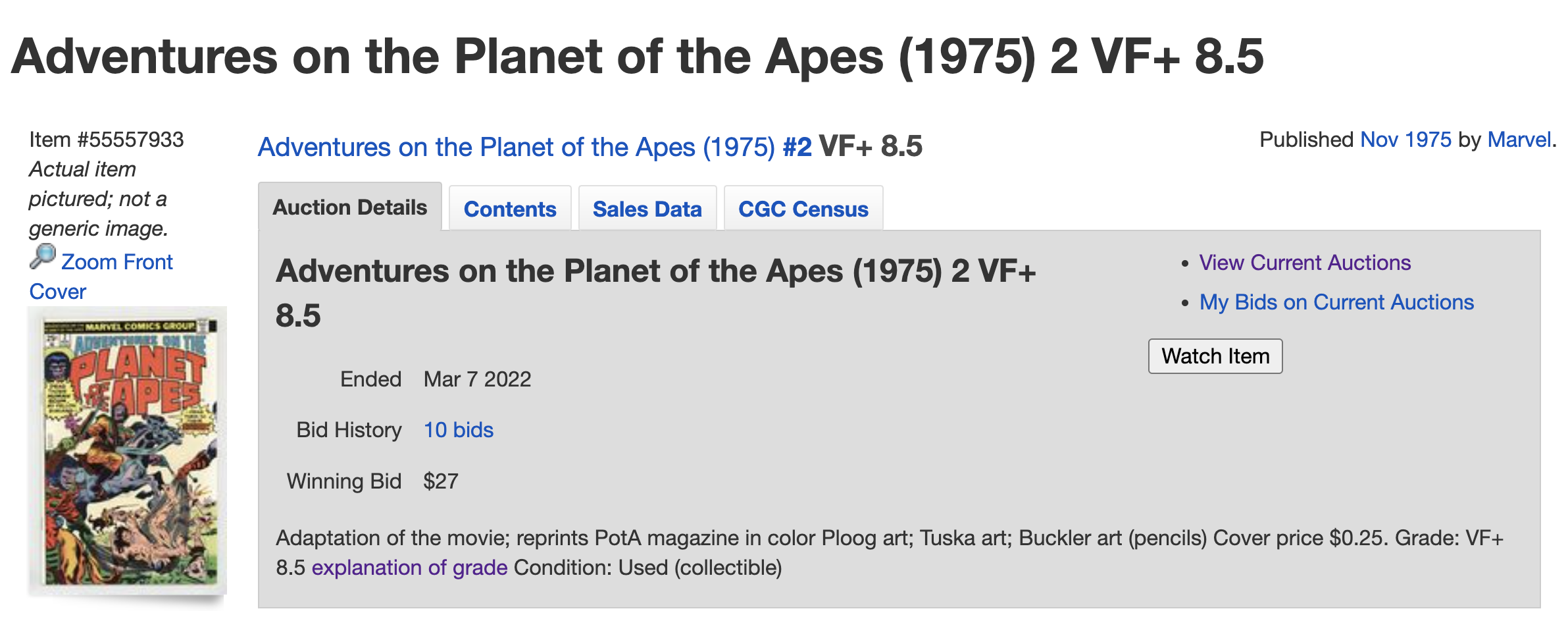 ---
---